Empowering Women Who Are Rebuilding Their Lives   DONATE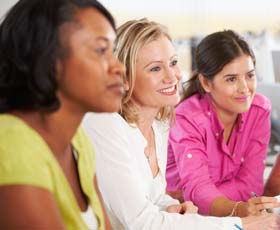 Who We Serve
Women recovering from domestic violence, homelessness, & other challenges. MORE »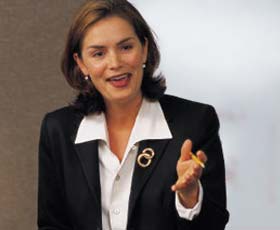 What We Do
Personal & professional development, training & coaching.
LEARN HOW »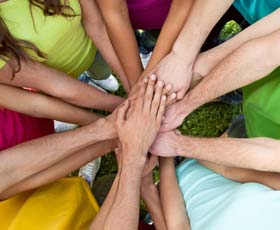 How You Can Help

Please help us change lives
Donate, Sponsor, Volunteer
GET INVOLVED »
Leaping Into the New
There is nothing as inspiring to me as a woman who has transformed her life from hopelessness and despair to radiance and fulfillment! As the founder of Leap to Success, I've witnessed this many times over the past 5 years.
As you visit our website, I want you—our supporters and new visitors—to feel this sense of hope, inspiration, and freedom. With our new colors, photos, and graphics, I want to convey possibility and success. I'm very happy with the result. I hope it will tell our Leap to Success story and help us leap forward to engage more supporters and touch more women's lives.

Please visit often to stay up to date with events and other happenings. Share your comments, and join our Facebook community. We will continue to share inspiring stories of our women.
Special thanks to our web/graphic designer, Greg Klamt. He did an awesome job!
More Posts »  
WHY LEAP TO SUCCESS?
We serve women who have moved beyond crisis; they have taken initiative and sought help, found safety, shelter, and counseling.
What next?
How do they create a new life in which they can be successful and fulfilled? How do they build a positive future for themselves and their children?
We help them Leap to Success.


Now, they are stepping up, speaking out,
& changing
the world.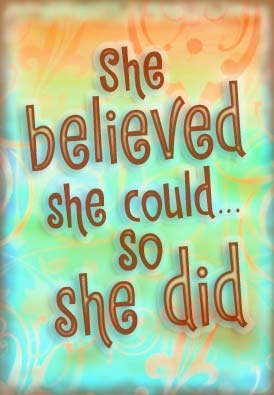 SUCCESS STORIES
Our graduates have triumphed over extreme circumstances and are building new futures for themselves and their families.
LEARN HOW »
COMMUNITY IMPACT
Our grads are inspiring thousands of women around the region through our outreach programs.LEARN HOW »

Leap to Success
Sharing our successes! Meet our graduates and be inspired at our new Success Stories web page: http://www.leaptosuccess.org/learn/impact/success-stories/

Leap to Success -

Did you happen to miss Leap into Fashion? In this video you can see what all the excitement was about! BIG THANKS AND LOVE to Lee Anne Davis who had the vision and audacity to make this a fabulous event for Leap to Success!

The Pulse takes you inside the 1st Annual Leap Into Fashion Event hosted & Founded by Lee Anne Davis from PromoVentures Inc. Lee Anne collaborated with the fabulous Leonard Simpson from Fashion Forward KUSI-TV to coordinate the fashion show and be the MC of the night! This event was held at the W ho...

Check out this online volunteer project sponsored by Soroptimists.

Live Your Dream is a self-motivated community of people who wish to support women and girls in their quest to lead better lives, while gaining inspiration in their own lives. This is accomplished through hands-on opportunities, awareness and advocacy efforts, and financial support—or any combination...

Proud graduates and instructors of Transformation Leadership

With our friend Michelle Davis, Re-entry Specialist

Here's our latest Empowering Women to Succeed News --Check us out!

A Circle of Hope event is a gathering of your friends, family, and colleagues where they are introduced to our program and given an opportunity to get involved.

Welcome to our new friends! Chenique Jones Murrell, Rob Spence, Gail Tyrrell and Suzanne Knight. Glad that you are part of our community of empowering women.

Really excited for what these fabulous ladies are brewing up for our Circle of Hope events. What a terrific team you are!! Can't wait to see how they unfold and multiply and allow us to help many more women. Beautiful art by Marsha Boston at Hera Hub Sorrento Mesa.

Just can't keep it under wraps any longer! I have to share our new Leap to Success website. Thank you Greg Klamt for the beautiful and inspiring new design. I know it still has some glitches to work out, but I just had to let everyone see it. http://www.leaptosuccess.org/

Transformation Leadership North County! The Nomination period is now open through May 24. Women may be nominated by a case manager, program manager or therapist from our Community Partners. Transformation Leadership is for women who are ready to: • Achieve self-sufficiency and career success • Build self-esteem and self-confidence • Acknowledge and appreciate their own worth and well being • Speak up for themselves and their families • Establish healthy boundaries • Better manage stress and challenges • Through public speaking, share their stories of overcoming adversity to empower others Nomination criteria is here: http://www.speakforsuccess.net/docs/_2013NominationCriteria.docx Application is here: http://www.speakforsuccess.net/docs/ 2013_Application.docx

Mom is the name for God in the mouths of children, yet there are no words that express the power and courage for describing her love. Mothers take care of what they can and somehow have learned to trust a higher power to work and guide their children where they can't. Maternal love, somehow, is the catalyst to believe one can do something beyond what has been done before, because every child who comes into this world is a new expression of God with infinite possibilities. And moms are entrusted to be the first visionary of what's possible for our lives! Reflection: Take some quiet time to contemplate your mother's love and write her a thank-you note, whether she is in this world or the next. From Joyous Living Journal by Rev. Christian Sorensen

We have leaped into La Jolla Today! Thank you Lee Anne Davis for posting this great 2-page spread with fabulous photos & story from our Leap into Fashion event. http://issuu.com/leeannedavis/docs/la_jolla_today_feature_article

Vincent Andrunas featured article in the La Jolla Today Society section

I had a wonderful time! Suzanne "the HAT", Shea! Leap Into Fashion Fundaiser

Do you want to be right, or be happy? Kathe Gogolewski did a great job as our guest instructor. She had us all thinking about how we can be more compassionate and understanding so that we can have more peace in our lives. Thank you, Kathe!

Always inspired by our women. Heard this in class last night from Angela. "When people are upset and yelling at you -- it's usually their stuff, their garbage and doesn't have anything to do with you. I keep my house clean and don't let other people dump their garbage in my house."

To get a close up look at the models take a look here. You'll see the amazing makeup and detail. Beautiful photos! Thank you Sinsay Fitography!

for high res downloads please visit http://snapped4u.com/galleries/3372

Just posted a sneak peek of our new website look. I LEAP!
---
We are proud to be supported by the following organizations: